---
The Alnwick Garden

Art Direction: Scott Laserow
Fonts: BN Wispy, Mrs Eaves, Broadsheet
Software: Adobe InDesign, Procreate, Adobe Illustrator


The Alnwick is a widely renowned botanical garden in the UK that has a very unique feature, it has a whole garden full of toxic and poisonous plants. The garden cultivates well known and historical poisons like Nightshade and Hemlock, the plant that killed Socrates. They also grow toxic plants that often fly under the radar like Angels Trumpets and Foxglove, as the unassuming can often be the most dangerous. My rebrand of the Alnwick Poison Garden involved designing them a new logo, catalog, website, and branded merchandise.

Logo Design


For the logo design, I wanted to capture the eerie occult history of the toxic plants, while also acknowledging their beauty. My initial logo sketches focused on combining popular witchcraft symbology with vegetal forms. I looked at imagery often associated with botany and traditional witches' sigils to form my early compositions. The final mark that I landed on combines a sinister all-seeing eye with radiating leaf-like forms. The mark encompasses the essence of the garden while remaining graceful and versatile.

The Catalog


The largest component of this project was a custom-illustrated plant catalog. This book highlights the variety of plants that are tended to at the Alnwick Garden. Each plant gets its own spread, with a full color illustration highlighting the details and beauty of its form. I customized the type for each header spread, and strove to create interesting compositions by intertwining the typography with the organic shapes of the flora.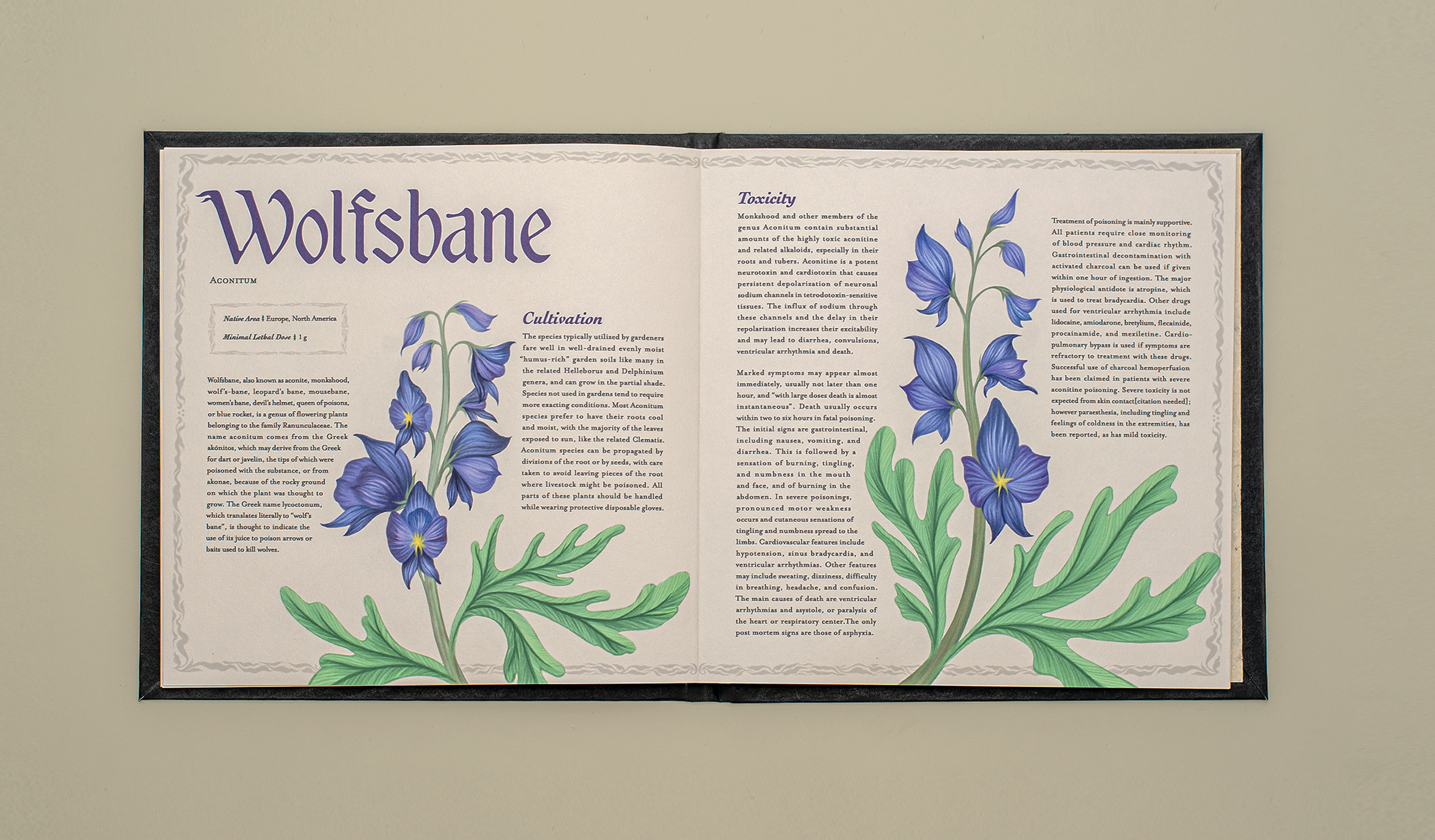 Souveniers and More

To show a wider application of the re-branding, I chose to design a website homepage, tickets, and small souvenirs. The website homepage shows the flexibility in the brand application, and how the organic nature of the brand can still be shown in a web format.

As a potential gift shop bestseller, I designed a set of three scented tinctures from some of the more perfumed floral at the Alnwick. The tinctures are meant for aromatherapeutic purposes, so if you try to poison someone with them it unfortunately wouldn't be too effective. I wanted to echo old-fashioned apothecary bottles for the tinctures, so I chose classic amber glass which protects the contents of the bottle from UV light.